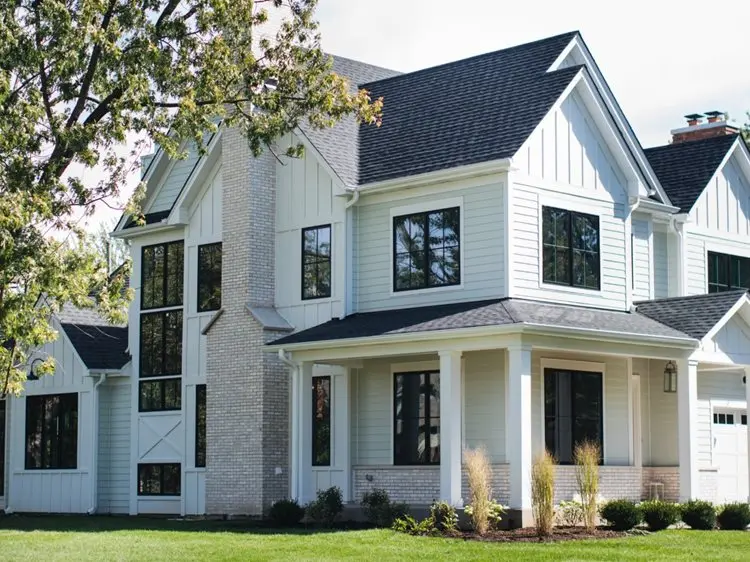 Is your home exterior old, worn and in need of a boost in curb appeal? Replacement siding is an excellent way to give your home exterior a modern facelift and protect your house at the same time. That's one reason Chicago area homeowners are turning to the increasingly popular board-and-batten look provided by long-lasting James Hardie siding.
Here's what you need to know as you consider whether Hardie board-and-batten style is right for you.
What Is Board-and-Batten Style?
You've probably heard or read about this siding style, but you may not know what it looks like. To put it simply, the board-and-batten look is created by first applying wide siding planks in a vertical pattern (not the traditional horizontal design of clapboard). Then, the seams between the wide planks are covered with thin vertical strips known as battens. The result is an eye-catching home exterior that looks great on Chicago area homes.
While the board-and-batten look is trendy right now, it's also a siding design with a history. Board-and-batten has been used for a couple hundred years in the U.S. to provide a lovely alternative to the traditional log cabin look. With a rustic charm that also looks polished when applied with a contemporary approach, board-and-batten siding livens up a home exterior and helps it stand out in its neighborhood.
What Makes Hardie Board-and-Batten Style So Popular?
Rustic Chic Elegance
Many homeowners appreciate the relaxed, comfortable vibe of country kitchens, Farmhouse architecture, and rustic chic décor. Board-and-batten fits that aesthetic perfectly—a visual reminder of laid-back days past.
The vertical siding provides a casual sensibility, yet the neatly installed battens pull the look together to create a fresh modern style that is highly popular. Add features like shutters to create even more eye-catching detail that will be the envy of your neighbors.
Customizable Style
If you're looking for a unique way to make your home stand out from the curb, board-and-batten is a great choice because it's so adaptable. Some homeowners even use it inside their home to add a specialty look for ceilings, their fireplace wall, and more.
On the exterior, board-and-batten can be used on the entire home or on certain architectural elements that you want to stand out, such as your front porch area or gables. Hardie board-and-batten style blends well with other siding materials, so you can mix and match to suit your preferences.
Versatility in Colors
Some siding styles are best kept to a certain range of colors—but not board-and-batten siding, which is equally appealing in traditional colors and bold modern palettes.
If you choose the James Hardie board-and-batten style, you can opt for their ColorPlus Technology, which bakes in rich color in layers in the factory for a look that stays vibrant up to 15 years. Or you can opt for pre-primed boards and battens that can be painted any color you like after installation.
Long-Lasting Performance
Chicago's weather is notoriously tough on homes, but board-and-batten style adds an extra layer of protection. Because the battens cover the seams of the boards, it's harder for rain, snow, ice, and other sources of moisture to penetrate beneath the siding.
Add to this the impressive durability of James Hardie fiber cement siding, and you'll have a home exterior designed specifically to stand up to Chicago's wet, windy, cold winters for decades.
Enjoy the Benefits of the Trusted James Hardie Brand
To get the modern rustic chic of board-and-batten style with the best performance, turn to a siding replacement contractor who can give you elegant James Hardie fiber cement siding. Fiber cement siding:
Lasts longer than wood and vinyl
Is low maintenance
Resists pests
Is non-combustible
Doesn't warp or fade
Comes with industry-leading warranties when installed by pros who are certified by the James Hardie company
Want to know more? Check out this ultimate guide to the pros and cons of Hardie Board siding.
Choose Stylish Board-and-Batten for Your Chicago Home
As you consider and plan for your siding replacement, let yourself imagine how your home exterior can be elevated by James Hardie Board-and-Batten style siding. As a James Hardie Elite Preferred Contractor, our team at Siding & Windows Group will install your new siding with precision so you enjoy a gorgeous look, top performance, and the full benefits of the James Hardie warranty.
For a more detailed look at how we can help your home be gorgeous and easy to care for, check out our siding replacement services.