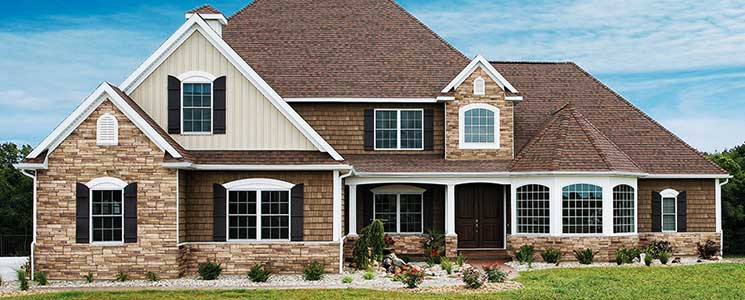 All the Beauty of Traditional Stone Masonry Without Any of the Hassle
If you want your home to exude elegance and beauty then consider stone veneer siding. This particular siding is very appealing but it's also very durable. Siding & Windows Group is proud to specialize in the installation of Versetta Stone® siding, one of the leading stone veneer siding products on the market.
Versetta Stone® is a quality, top-preferred panelized stone veneer that won't disappoint. You can say goodbye to ever needing to paint, coat, or seal Versetta Stone® siding. Included is a 50 year limited warranty and one-time transferability so you can be assured that it meets our high quality standards.


Versetta Stone Texture Options
There are two different textures – (1) Ledge and (2) Ashler. The ledge textures is ledgestone and the Ashler is tight-cut, both available in blended, brown and tan color families.
Ledge – Versetta Stone® offers a beautiful stone appearance due to the aggregate material installed with a mechanical fastening system. You can have the appeal of real stone without the hassle and maintenance that comes along with it.
Ashler – This texture offers the look of quarried limestone but in a tight, close fit to mimic the architecture of American 19th Century.
Features of Versetta Stone Siding
Painting, Coating and Sealing Never Required
Composed of Lightweight, Aggregate Materials
Quick, Clean Installation
Excellent Appeal
Durable to Withstand Weather Elements (freezing, thawing, winds, heat)
Additional Support Footings Not Required
Contains 50% Recycled Material
Includes 50 Year Limited Warranty (and one-time transferability)
Reasons to Choose Versetta Stone Siding
Appealing – The design and style of Versetta Stone® is hard to resist if you're after that particular look for your home. The color and texture palette for this stone siding is assorted and hand-colored.
Durable – You should choose a durable siding for your property because it saves time and money, but it also helps you achieve a home that is very pleasing to the eye. Versetta Stone® means you can say goodbye to painting, staining and sealing…for good. You will enjoy the 50 year limited warranty included and also a one-year transferability.
Cost-Effective – If you desire to have a home resembling the beauty of authentic stone, Versetta Stone® is an ideal and cost effective option. Real, authentic stone requires a lot more money and takes longer to install. You can achieve the same appeal without the cost, hassle and lengthy installation with Versetta Stone®.
UL Environment Standards – Versetta Stone is very sustainable and crafted from 50% recycled material. Every product we offer meets the standards validated by UL Environment and Greenguard certification as well.
Your Stone Siding Installation Professionals
If you need new siding for your home or you're looking to boost the curb appeal of your home with stone siding, Siding & Windows Group is your solution. Our experienced staff can help you with design options and help you choose what fits your home style and budget.