Protect Your Chicago Home with Vinyl Replacement Windows
It's risky to ignore leaky windows. When windows break down, your home can become damaged by mold, mildew, wood rot, and eventually foundation problems.
You should live in a home you're proud of. Siding & Windows Group has helped thousands of Chicago homeowners upgrade with replacement windows. Get low maintenance, attractive, cost-effective vinyl window replacement.
Benefits of Vinyl Replacement Windows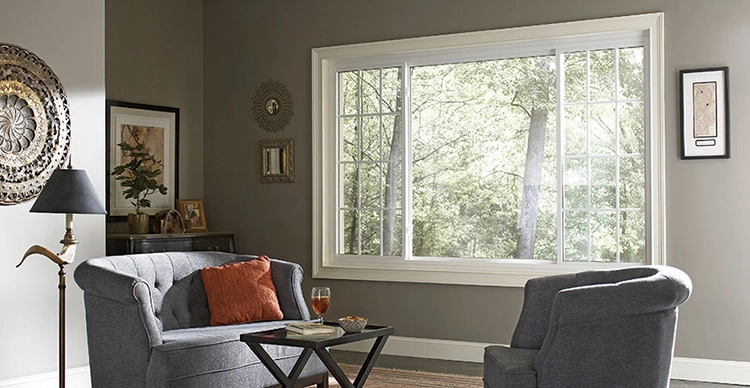 Cost-effective—Vinyl offers some of the most affordable windows in the industry.
Durable—Enjoy long-lasting vinyl windows with their modern advances that minimize peeling, cracking, fading, and warping.
Low maintenance—There's no need to paint or stain vinyl windows, and they are easy to clean.
Energy efficiency—Multiple panes of glass, low-E coating and insulation give you excellent thermal protection, saving you on utilities.
Customizable—Select from numerous color options and designs to complement your home.
Practical—Popular for both residential and commercial properties, vinyl windows deliver reliable performance.
"I can't say enough good things about this company. Everything went so smoothly and they did an unbelievable job. We went from having a beat up looking house to having a gorgeous one. "



-Sara P.
Our Preferred Brand of Vinyl—Alside Windows

Get Alside Windows from Siding & Windows Group for beauty, performance, and ease of operation. Over 65 years of innovation combine to create this collection of durable vinyl windows that boost your home design.
Mezzo Energy-Efficient Vinyl Windows
The Mezzo line of vinyl windows redefines beauty with its narrow frame and double-pane insulated glass, giving you greater views of the outdoors. Made to meet or exceed ENERGY STAR® standards, the affordable Mezzo Full-Frame Replacement System gives you energy efficiency and prevents moisture retention.
Why Choose Siding & Windows Group
Looking for a vinyl replacement contractor in Chicago? Siding & Windows Group specializes in window installation, and offers reliable service:
Seamless Installation—Our proven installation process exceeds expectations repeatedly.
Outstanding Customer Service—We address your concerns and answer your questions.
Convenient Financing—Get 0% financing for 18 months to simplify your project.
How to Know You Need Replacement Windows
Do you have indoor drafts near your windows?

Have your utilities bills increased, but you aren't sure why?

Do your windows have signs of moisture penetration like wood rot, mold, or mildew?
Is your view of the outdoors hindered due to condensation between your window panes?

Do you have trouble opening and closing your windows?

Is your safety at risk due to a broken or damaged window?
If you answered yes to any of the above, it's time for replacement windows.