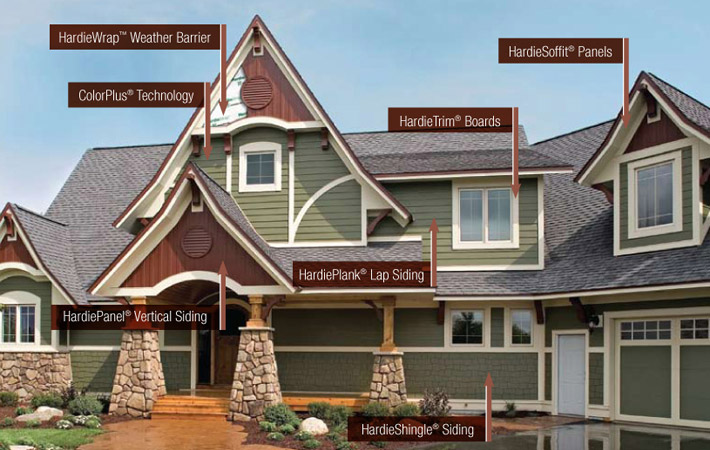 HardiePlank®
HardiePlank® lap siding is the most popular brand of siding in America and can be found on over 4 million homes. With its strength, beauty and durability, HardiePlank® siding enhances and protects homes in all kinds of climates—and now, with the HardieZone™ System, James Hardie provides siding with specific performance attributes relative to the climate where the product is being used. James Hardie now gives you the optimum siding for your home and climate, regardless of location.
All HardiePlank® lap siding comes in a variety of looks and textures, all of which are engineered for climate. James Hardie is so sure about how well the HardieZone system will perform, that HardiePlank® lap siding comes with a 30-year non prorated, transferable, limited warranty—their strongest warranty ever.
HardieShingle®
HardieShingle® siding has the same warm, authentic look as cedar shingles, yet it doesn't rot, crack or split. It's beautiful as a primary siding or as a complement to other styles of James Hardie® siding, and it's also engineered for climate to better withstand a home's particular weather challenges. Our shingle siding panels come in a variety of decorative edges, and expedite installation when used in larger areas. HardieShingle individual shingles come in a selection of widths for an authentic handcrafted look and are also ideal for smaller coverage areas. James Hardie shingle siding products are available with our strongest warranty ever. HardieShingle siding is protected by a 30-year non prorated, transferable, limited warranty.
HardiePanel®
HardiePanel® vertical siding provides value and long-lasting performance. As with all of James Hardie exterior products, HardiePanel® is engineered for climate and will stand up against your climate's harshest conditions. When combined with HardieTrim® boards, HardiePanel vertical siding gives you a traditional board-and-batten look. HardiePanel vertical siding comes with our strongest warranty ever. It is protected by a 30-year non prorated, transferable, limited warranty.
HardieTrim®
James Hardie's fiber cement trim and fascia add the finishing touches to a beautiful, lasting James Hardie homes, and are all engineered for climate, so you get the right siding for your home no matter how harsh the weather is where you live. HardieTrim® boards provide unmatched durability and allow you to create a variety of design possibilities for trim, gables, corners, fascia, windows, doors, column wraps, rakes, friezes, decorative trim and other non-structural architectural elements. HardieTrim boards come with a 15-year transferable, limited warranty.
HardieSoffit®
James Hardie Soffit panels are available in a vented and non-vented in a range of pre-cut sizes. As with all James Hardie siding products, they are engineered for climate, so you can have peace of mind that your siding products will stand up to the harshest elements no matter where you live. HardieSoffit panels are noncombustible and come with a 30-year non prorated, transferable, limited warranty.
Artisan®
Introducing Artisan® Exterior Design. This new architectural grade line from James Hardie features Artisan® Lap and Artisan™ Accent Trim products. Backed by 15 years of research and development, Artisan Lap delivers. Exactly. James Hardies' patented technology provides a product with superior structural integrity and gives discriminating home owners the opportunity to express themselves through the highest standards in design. Artisan Accent Trim and Artisan Lap Corner Detail Options serve as the perfect complements by delivering superb finish to every luxury home.