ColorPlus® Technology by James Hardie
James Hardie products with ColorPlus technology offer beauty, durability and low maintenance in a wide range of professionally colors.
Professionally developed color palette, factory application, lower on-the-wall costs, longer building season, scratch resistant, creates a better value for customers.
15 year warranty
When you choose James Hardie siding products with ColorPlus technology, you have the assurance you've selected the most durable, low-maintenance, highest-quality siding product possible.
James Hardie's proprietary process involves applying multiple coats of paint that was created especially for the demands a tough climate places on your home's exterior siding. The paint is actually baked into the siding board to offer maximum durability and resistance to prolonged exposure to freezing temperatures as well as higher UV, ensuring a consistent, lasting finish every time.
Specially formulated siding paint stands up to UV levels in a way few traditional paints can, offering up to 30% more color fade resistance.
The James Hardie siding color palette was designed by Leslie Harrington, an expert color designer, to complement your home.
 Our ColorPlus® finish warranty guarantees your home siding will look amazing, for years to come.
Introducing 6 New Colors from James Hardie – Available to Siding & Windows Group Clients!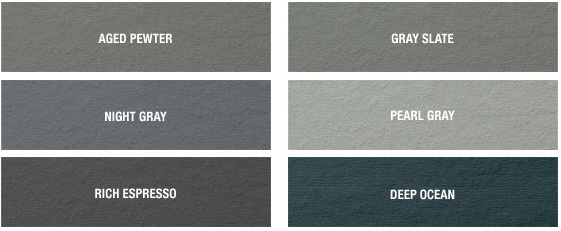 James Hardie ColorPlus Color Combinations for Your Siding Project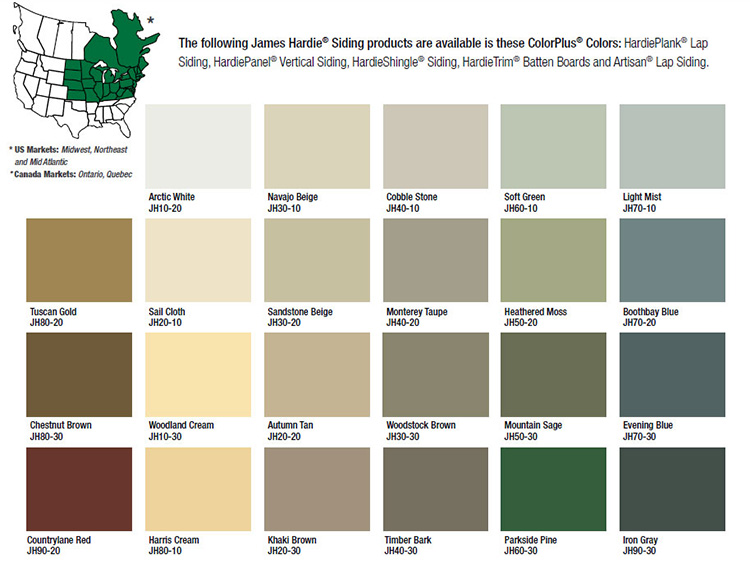 James Hardie now offers custom colors to match any color you want with their ColorPlus Technology. Please ask our staff for more information.
The ColorPlus® Siding Color Process
James Hardie — the largest producer of fiber-cement siding in North America — is the only siding manufacturer that controls its siding products from the initial mixing of the cement to final painting in one facility. To ensure that every siding board meets James Hardie's high standards, over 41 quality assurance checks are made throughout the manufacturing process and each batch of siding is also checked at three outside testing facilities to monitor long-term durability.
Siding Color Integrity
Have you ever taken a gallon of paint back to the store because it didn't match the rest of your project? How would you feel if one side of your house siding was a shade darker than the rest? James Hardie's color variance accuracy standards for our ColorPlus technology siding finish are three times stricter than what's acceptable for most "store-bought" paints and more tightly controlled than the automotive industry.
ColorPlus® Palette
The James Hardie® ColorPlus® siding color palette was created by color pro, Leslie Harrington, who handpicked the custom colors and color combinations for each area of the country. Selections were based on regional housing styles, environmental surroundings and extensive research and development.