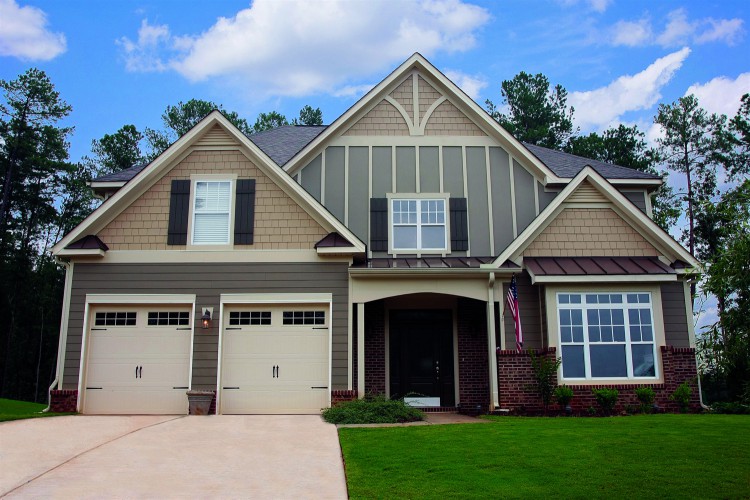 You likely realize that replacing the siding on your house is an important job. If your siding is worn down, damaged, or otherwise in bad shape, it's necessary to replace it so your home can remain protected. Replacement siding can also make your house more appealing to potential buyers and raise the value of your home. The flip side is that these benefits don't come cheap; replacing siding isn't a simple or fast job, so it comes with an appropriately high price tag.
You have lots of options when replacing your siding, and you might be tempted to go with an inexpensive option like vinyl, but James Hardie siding (a brand of fiber cement siding) offers far more benefits, even though it costs more. So how much does it cost to install James Hardie siding, and is it worth the extra money?
Why James Hardie Costs More
For starters, know that James Hardie siding will always cost more to install than a vinyl counterpart (but is still usually cheaper than full wood siding). Why is this the case?
History
Fiber cement siding became the leading siding choice in the United States since its introduction in the early 1990s because it provided a better alternative to vinyl, wood-based and aluminum siding, the norm for that time. Those innovation ideas have benefited homeowners and builders alike with products that are durable, easy-to-install and cost-efficient. James Hardie products are the results of decades of research and development – and they are still investing in product innovation.
Material composition
Part of the cost basis is attributable to the material composition of fiber cement siding. Unlike wood or vinyl, which are relatively easy to produce and made from common materials, fiber cement siding is a composite made from a special blend of different ingredients. Some of these ingredients include cement, cellulose fibers, and sand. James Hardie uses a proprietary mixture of these ingredients, which has taken significant time and research to perfect. The end result is a material that can stand up to the elements—including natural disasters and insect damage—much better than its less expensive counterparts.
Material storage and handle
As a manufacturer, James Hardie requires their certified installers to follow strict guidelines on how the products are stored, handled, prepared and installed on your home. This is for a few reasons, including the OSHA (Occupational Safety and Health Administration) requirements for safety. These requirements ensure that your siding will meet the warranty standards that James Hardie provides on its products. Siding & Windows Group is certified as a James Hardie Elite Preferred Contractor and has built a reputation of delivering the highest possible service and quality installation to ensure you're having the best remodeling experience.
Installation efforts
Fiber cement siding is very heavy and hard to work with, especially compared to flimsy materials like vinyl. If you think about it, this makes sense—the harder a material is to work with, the more likely it will be to stand up to exterior damage. The fact is, fiber cement siding demands bigger installation crews and more time and effort to put the siding in place securely. These additional costs are added to the total cost of your installation. However, having a James Hardie Elite Preferred Contractor gives you confidence that your home will have an excellent return on investment and the desired curb appeal.
Performance and warranty
It's also worth noting that James Hardie siding costs more simply because it outperforms the competition so extraordinarily well. It comes backed by a 30-year limited transferable warranty, and will essentially last you forever, through any type of damage you can imagine. The ColorPlus Technology and Hardie Trim boards comes with their own 15-year limited warranty. You're paying for performance when you buy James Hardie products.
Factors That Affect Cost
It's hard to estimate a single cost that can apply to every homeowner. Your cost will be affected by these factors at a minimum:
Location
Your home's location will affect how much you pay for fiber cement siding. High-income areas will likely cost more, and you may have a production facility nearby that lowers the overall cost. This is why most pricing calculators you find online first require that you enter your ZIP code; prices vary from region to region.
Project size
Most installation costs are calculated based on the square footage of your home, but with discounts applied to higher quantities of materials purchased. For example, a 1,000 square foot home would likely pay a higher per-square-foot cost but have a lower overall price, while a 2,000 square foot home would likely pay a lower per-square-foot cost but have a higher overall price. The bottom line is that bigger homes have to pay more for installation.
Contractor selection
Your choice in contractor will drastically affect your eventual costs. Different contractors may have different markups for the James Hardie siding itself, and will likely quote you very different amounts for the installation. However, it's also worth noting that in many cases, you get what you pay for. James Hardie siding requires special tools and skills for installation, and its quality warranties can be voided by mistakes in the installation process. Leave it to the professionals.
Optional features
Fiber cement siding does come with a number of optional features to select. You can choose different brands of fiber cement siding, different styles that emulate other siding varieties in look and texture, and of course, different colors. What types of options you choose will ultimately impact how much you pay for the raw materials; the more ornate your options, the higher the cost.
ColorPlus Technology
All James Hardie siding and trim products are available primed and ready for field painting. But when you invest in ColorPlus Technology, you won't get only gorgeous, curb appeal color — you'll get color that resists fading and lasts longer than a typical paint job. The additional cost of the ColorPlus far outweighs the time and cost of repainting your siding.
Special Circumstances
The condition of your home and other special circumstances (such as those that make installation easier or harder) may also have a marginal effect on how much you pay for installation. Difficult patterns or configurations in a house will add to the siding costs.
General Estimates
With the understanding that your installation costs will vary due to all the factors mentioned, there are some general ballpark estimates available for James Hardie siding. Assuming you live in or around Chicago, for example, you can expect fiber cement siding to cost between $17 and $24 per square foot of your home. For a 1,500 square foot home, that would likely put you between $25,000 and $35,000, including the full cost of installation.
Again, these numbers will likely vary—dramatically—based on the factors we listed above. It's kind of like going to a dentist and hearing that your root canal is estimated to be $300, but with all the other costs added, it comes out to $700. General estimates don't speak to everything that goes into the final price, so make sure you get a formal estimate from multiple siding contractors before moving forward.
Is It Worth It?
Overall, James Hardie siding is one of the best types of siding you can buy—and it's guaranteed to last you 30 years. To make the case even better, fiber cement siding will add value to your home up to 80 percent or more than what you originally paid for it, returning most of the value of your investment when you go to sell the house. Ultimately, the value of your choice depends on your specific needs and preferences as a homeowner, but in most cases, it's worth the extra investment.
If you're interested in finding out more on James Hardie siding and what it can do for your home, reach out to us at Siding and Windows Group. We'll talk to you about your options, answer any questions you might have, and will provide you with an estimate, free of charge.