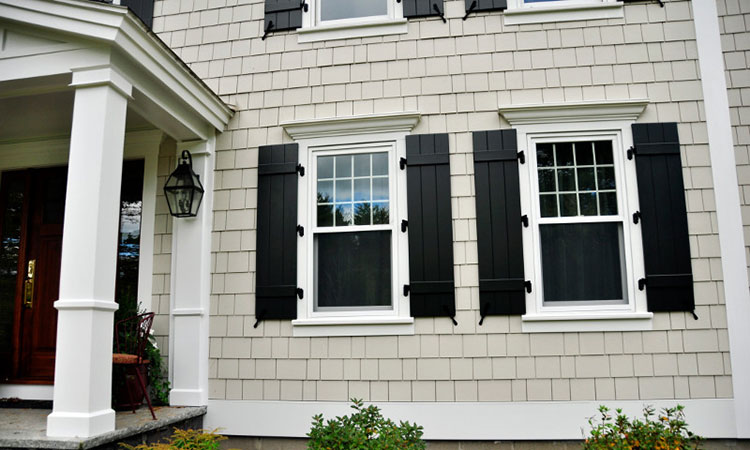 No matter if you're building a new home or if you need to replace the siding on your current house in the Chicago area, the sheer volume of options available can be overwhelming. It can feel like there is a limitless number of materials you can choose from with just as wide a range of pricing. In our opinion, the best choice for Chicago homeowners is HardieShingle® siding. Here are just a few reasons why.
A Versatile Look
HardieShingle® siding looks just like traditional cedar shingles. Unlike wooden shingles, however, these aren't susceptible to cracking, splitting or rotting. They also don't require the kind of maintenance that cedar shingles do.
HardieShingle® is available in two distinct panel styles. The staggered configuration has an informal and relaxed look making it perfect for Cape Cod-style homes as well as ranch or cottage-style homes. For more modern or traditional homes, many homeowners prefer the clean lines of the straight edge panel.
A Complete Array of Color Options
JamesHardie siding products are renowned for their availability in a wide range of colors. You can choose just the right hue that will best suit your home. HardieShingle® panels are made with ColorPlus® Technology. That means that the panels are coated several times at the factory. Between each coat, the finish is cured for a baked-on bond that achieves a perfect and even color with outstanding UV protection.
Thanks to the care taken in the manufacturing of HardieShingles®, your siding's color will not fade, peel, chip or crack, so you'll have years of worry-free beautiful color on your home. If you wish, you can also choose pre-primed panels that are ready to be painted.
Durability
Chicago, IL area weather can be particularly hard on the outside of your home. That's why you need a siding solution that can take a beating and that will last a long time. Wood siding expands and contracts with changing weather and vinyl is susceptible to cracking in the cold.
By comparison, JamesHardie® siding products are made with fiber cement and are engineered to withstand the harshest weather conditions. Additionally, HardieShingle® siding is fire resistant. It won't ignite when exposed to a direct flame and won't serve as fuel to a fire. For even more peace of mind, HardieShingle® siding is backed by a 30-year warranty that is transferable and non-prorated.
You can find out more about HardieShingle® siding and schedule a free siding installation consultation by contacting the Chicagoland experts at Siding & Windows Group.