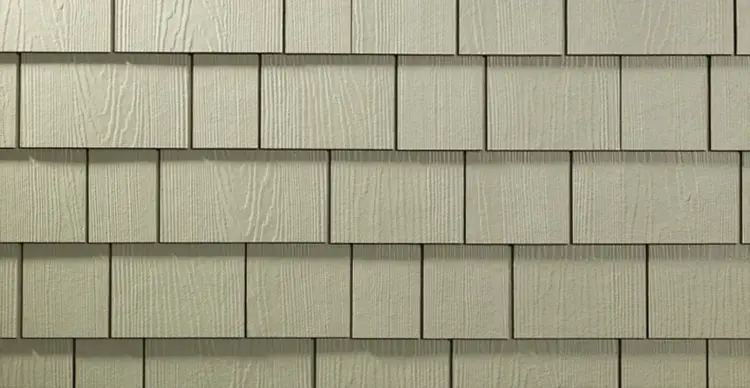 Which is better for your home: James Hardie fiber cement siding or LP SmartSiding?
Both are popular choices, and both have their advantages. As a siding contractor, we know both products well.
Here's a side-by-side comparison to help you make an informed decision and enjoy your siding investment long-term.
Makeup and Durability
Your home exterior is its first line of defense against the elements, so it's smart to select a siding that is strong, long-lasting, and reliable. This has a lot to do how the siding is made.
Fiber Cement Siding
Fiber cement is a manmade composite of Portland cement, wood fibers, sand and water.
Advantages:
This mixture is extremely durable, standing up well to the elements for years.
It's resistant to pests and doesn't attract termites, carpenter ants, rodents, or woodpeckers.
It's noncombustible, so it doesn't add fuel to a fire—and even qualifies for discounts under many insurance policies.
Disadvantages:
It's heavier than other siding materials, requiring a larger crew and more time to install. But since this is also what makes it so durable, it's hard to think of this as a drawback.
For more on James Hardie's outstanding qualities, check out our Ultimate Guide to James Hardie siding.
SmartSiding
LP SmartSide siding is made of engineered wood, which is treated to help it stand up against the elements.
Advantages:
Its wax coating helps it resist moisture.
Its SmartGuard protective layer provides added strength and pest resistance.
It's lighter in weight than fiber cement, making it easier to install.
Disadvantages:
The engineered wood expands over time, which can cause warping.
Deterioration can happen quickly, making this siding less durable than fiber cement.
Appearance and Maintenance
One of the most important features of your siding is how it makes your home look. You deserve a home exterior that is gorgeous, boosts curb appeal, and is low-maintenance.
Fiber Cement Siding
This is one area where fiber cement siding really shines. HardieBoard is well-known for its lovely appearance and easy maintenance.
Advantages:
Fiber cement can be shaped to mimic all kinds of materials. It can look smooth like vinyl, or grooved like real wood.
Choose from the most common home colors in your area, or over 700 custom colors, or even opt for pre-primed siding that can be painted after installation.
Get James Hardie's baked-on ColorPlus® options for a look that's guaranteed to last up to 15 years without fading or discoloration.
Simply remove dust with a gentle brush, soap, and a garden hose once a year to clean it.
Disadvantages:
James Hardie siding will need to be repainted eventually. However, its color lasts for twice to three times as long as wood, so you still get a great benefit from choosing fiber cement over other sidings.
SmartSiding
LP SmartSide's engineered wood can recreate the appealing look of natural wood, which many homeowners find desirable.
Advantages:
SmartSiding comes in a variety of textures, profiles, and styles.
It can be painted in a controlled factory setting before shipping, or come pre-primed for painting after installation.
Disadvantages:
LP SmartSide offers only 16 colors to choose from. If you want a more customized look, you'll have to paint the siding after installation.
Warranties
Don't forget to factor your siding's warranty into the equation of what you choose, because this can really differ from product to product.
Fiber Cement Siding
James Hardie siding is built to last. Not only is its fiber cement makeup highly durable, but it's got an industry-leading warranty.
James Hardie is so confident in its siding that it offers a 30-year, non-prorated, transferable warranty.
This means it's 100% covered up to 30 years if installed by a James Hardie Elite Preferred Contractor (like Siding & Windows Group).
SmartSiding
When it comes to its warranty, LP SmartSide definitely pales in comparison to James Hardie.
Its 5/50-year limited, prorated warranty means your siding is warrantied in full for only 5 years. That's not very long, especially given how your home exterior is vital to protecting the house's structure—and your investment in it.
After 5 years, the amount you get from your warranty decreases annually.
If you want a material that lasts a long time without causing you great worries, fiber cement siding is a better choice than SmartSiding.
Cost
In terms of cost, remember that the initial installation is only one part of the picture. To get a true sense of your siding's overall cost, include elements like long-term maintenance, likelihood of damage and repairs, and how long the siding will last before it must be replaced.
James Hardie and LP SmartSide are similar in price range, with James Hardie averaging about one dollar more per square foot than LP SmartSide according to the Siding Cost Report.
But the value of James Hardie's durability and warranty make your investment worthwhile. It adds undeniable value to your home for years to come.
Fiber Cement vs. SmartSiding: The Bottom Line
The bottom line in our Fiber Cement siding vs. SmartSiding comparison is this:
James Hardie fiber cement siding gives homeowners longer-lasting results for your money over time than LP SmartSiding. If you plan to remain in your home for years and can make the investment, Hardie Board siding is a winner.
This is why Hardie Board is the #1 siding in America—satisfying over 8 million homeowners to date. You can be one of them.
Invest in Siding You Know Will Last for Years to Come
Get the best value out of your new siding by calling on the fiber cement siding contractor that Chicago homeowners trust—Siding & Windows Group. We install top-performing fiber cement siding to the high standards of the James Hardie company so you get lasting protection and the full benefits of their industry-leading warranty.
We'll help you choose gorgeous siding that makes your home shine. Contact us for a free consultation and siding quote—and discover how great it feels to be confident in your home exterior for years to come.