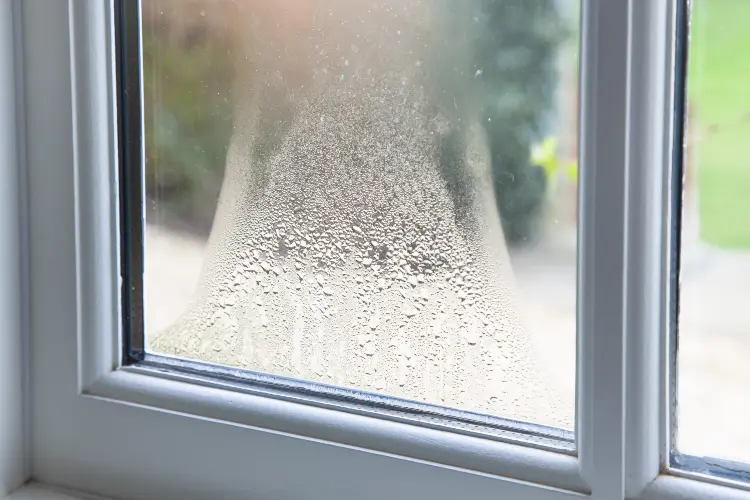 See those drops of moisture gathered on the glass of your windows? That's condensation, and it sure can be annoying and even worrisome. You're probably wondering what's causing it, and more importantly, whether it means your windows aren't working as they should.
Whether condensation is a serious problem depends on a few key factors—such as the age of the windows, where the moisture is showing up (inside, outside or between panes), how often it occurs, and how much it's contributing to other issues in your home, such as mold growth. That may seem like a lot to know, but the pros at Siding and Windows Group have simplified it for you.
As you're caring for your windows, take time to notice any issues that may need your attention. Here's what to look out for if you're seeing droplets of water forming on your window glass, and what steps you'll want to take to resolve the situation.
What to Know about Condensation Outside Your Windows
What Causes It?
When drops of moisture appear on the exterior of your windows, it's because the outdoor temperatures are warmer than your air-conditioned home. The humidity outside can't sneak in, so instead it gathers on the glass in the form of dew.
This issue is common in summer, particularly when windows are doing a proper job of insulating your house. If it's a still, clear, humid night, you're even more likely to see this dew outside your windows come morning.
How Serious Is it?
While it might be annoying at times because it blocks your great views, moisture on the outside of windows doesn't need fixing. It's a sign your windows are keeping your home energy-efficient.
Ways to Reduce It
Still, there are ways to lessen condensation on glass exteriors if you want to improve your views of the outdoors.
Trim shrubbery away from the window to increase air flow.
Set your thermostat a little higher so the interior pane doesn't get so cold.
Keep window shades open at night to warm up the glass panes.
Be patient, because the morning dew will dry as the day heats up.
What to Know about Condensation on Interior Glass Panes
What Causes It?
Just like condensation outside, the culprit is a difference in temperature between the outdoors and your home's interior. If moisture forms inside, it's because your home is warmer than the exterior air—which is common in cold months.
Humidity inside the home can also increase due to a number of factors that temporarily increase your water usage, such as taking a shower, cooking, or running the washing machine. It can also be due to having new windows that have tight seals. This keeps your house insulated, but can also mean humid inside air has nowhere to go.
How Serious Is it?
Homes are sensitive to moisture damage, so even if the cause of the condensation is not serious, the effects could be. Mold and mildew can grow, decreasing your home's indoor air quality. And the moisture can drip down to the window sill, potentially damaging the wood.
Ways to Reduce It
To lessen condensation on interior window panes, take steps to reduce humidity in your home.
Turn a fan on to improve air circulation.
Crack open the window to bring in fresh air.
Give the humidifier a rest. It can produce too much moisture. Lowering the settings or turning it off for a while can help.
If your home is experiencing too much moisture, a dehumidifier can draw the excess out of the air, getting rid of pesky condensation.
What About Condensation Between the Panes?
What Causes It
When double and triple paned windows are manufactured, they contain a carefully designed space inside the two panes of glass. In that space, an insulating gas such as argon is injected to create added insulating value. The panes are then sealed tightly in place.
In other words, condensation inside the window should not be happening.
If it does occur, it's a sign that your window seals have broken (aka, window seal failure). This results in insulating air leaking out, and moisture and dirt getting in. The moisture gets trapped, and you see condensation as a result.
How Serious Is it?
Condensation trapped inside your double or triple paned windows is a worst-case scenario, because the issue can't be easily repaired. The moisture will continue to stick around. Dust, dirt and pests can still make their way in between the panes. And without the insulating gas, the glass can become distorted, marring your views and looking unattractive.
If you're experiencing condensation inside double or triple paned windows, you'll want to seek the help of window experts to determine next steps.
Ways to Address It
There are only a couple of things you can do to address this problem, and they usually need to be performed by windows experts.
Seal repair — Locate and fix any damaged window seals. This will keep out moisture, but your windows still won't insulate your home as well as they once did.
Defogging — Drill a tiny hole in the glass, insert a defogging agent, and seal the hole. This may improve the window's appearance, but it won't eliminate the broken seal, and it won't insulate your home.
Replacement — Ultimately, windows with broken seals need to be replaced to give you the best results — new windows that look beautiful, perform optimally, and protect your home.
Transform Your Chicago Home with New Windows
Whenever you're concerned about your windows, it's a smart idea to call on a professional home improvement company to get an expert assessment. We love helping Chicago area homeowners enjoy a lovely, lasting dwelling and the peace of mind that comes with it.
We consider our clients our number #1 priority. We listen to your concerns, answer your questions, and make it simple for you to determine whether to repair or replace your windows. Get started by checking out our handy guide on replacement windows, and reach out to us to learn more.