Colonial homes are a common style of architecture, and many homeowners want an exterior look that helps their home stand out from other colonials in their neighborhood. Yet it's also valuable to make sure you're not choosing a look that diminishes the features that make these homes so enduringly beautiful.
So as you consider ways to give your colonial house a facelift, here are our favorite tips for narrowing down your choice of siding styles and colors.
Why You Should Be Deliberate in Choosing a Colonial's Exterior Upgrades
A colonial house offers a mix of unique considerations for homeowners to account for when remodeling. Some colonials are historic homes, requiring that siding and color choices meet regulations for historic home updates. But even if your house isn't classified as historic, its classical architecture lends itself better to certain design choices.
Architectural Features to Keep in Mind as You Plan a New Exterior Look
A colonial house's features should be enhanced by your new siding style and colors.
Symmetry — Colonials have a matching appearance on both sides of the house. This can create specific focal points, like the front door. Lean into accenting focal points.
Angled gables — Practical because they add living space, angled gables are also eye-catching if you choose siding styles and colors that make them stand out.
Additional stories — Colonials typically have at least two floors. Siding designs and colors can take advantage of that to create dramatic dimension and visual appeal.
Think about Your Personal Style and Goals Too
Don't be afraid to make choices that fit what you like—after all, it's your house and you should love how it looks. Consider:
Style preferences — Do you want a look that is classic, or edgy? Are there colors you absolutely want to avoid because you don't like them?
Upcoming plans — Are you planning to sell soon—in which case it pays to choose colors that buyers find attractive?
Take these factors into account as you use the tips below to plan your exterior upgrades.
Siding Styles that Look Great on a Colonial Home
So, how do you create the eye-catching siding design you want to accent these features? We love James Hardie siding for the impressive durability and customizability it offers.
Go Traditional with Horizontal Siding
Classic lap siding looks natural on a colonial. Long, grained fiber cement siding boards can mimic the look of wood with much less upkeep. A deep, dramatic color can create visual interest, while white or gray creates a timeless look.
Level Up the Look with Shakes
If horizontal boards aren't your preference, shake siding is an apt alternative. This look is traditional and elegant. Choose fiber cement shakes to get lasting beauty without wood's costly upkeep.
Creatively Combine Siding Styles
Give your home an individualized appearance by mixing siding types. Hardie siding comes in many looks that blend well. Put HardieShingle siding on the front of your home, with HardiePlank lap siding on the sides and rear.
Add Texture with Board-and-Batten
If you like the modern Farmhouse look, here's good news: you can use this style on a colonial. Install horizontal lap siding on the lower story, and add vertical planks overlaid with HardieTrim on upper gables to create visual appeal.
Learn more about the versatility and lasting performance of Hardie siding.
Color Schemes that Make a Colonial Home Pop with Personality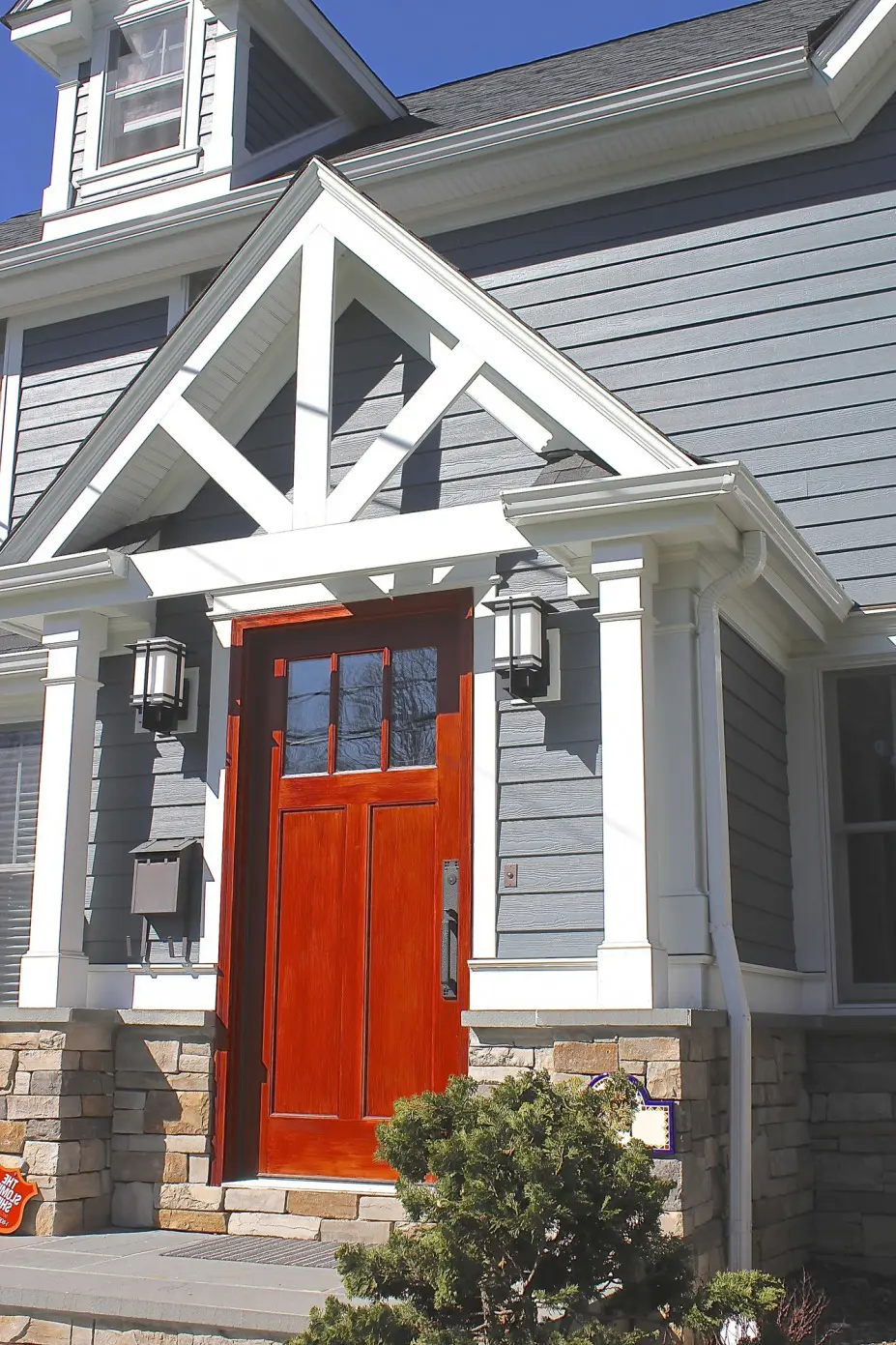 You may assume that brown, white, or barn red siding are mandatory for a colonial home—but colonial style evolved over the centuries to incorporate many interesting bright colors. Just know that you can get creative and still be within what works for a colonial house. Here are some suggestions you might enjoy:
Light Neutral Siding with a Bright-Colored Door
Remember when we talked about focal points above? A subtle, neutral shade like white, gentle gray, or soft beige on siding—coupled with a red, yellow, turquoise or lime green door—looks striking on a colonial house.
Golden Yellow Siding with White Trim
Create a cheerful, sunny home that welcomes guests by using a warm yellow. Coupled with crisp white accents (like trim and shutters), this shade looks charming. Pair it with a dark blue door.
Sage Green Siding with White Trim
A gentle, muted green looks attractive on a colonial home, and creates a stately feel when coupled with clean white accents. It's a great look for historic colonials.
Bright Mint Green Siding with Hunter Green Shutters
This color combo offers a more modern look to give added personality to a colonial's traditional architecture. Make the look airy and bright with white trim and a white front door.
Blue-Grey Siding with a Green Door
Blend classic and modern style with this color palette. A bright blue-gray is a traditional color, like Prussian blue, which was used on colonials in the 1700s. Give that classic look a fresh take with a spring green door and accents.
Light-Blue Siding with Black Accents
If you want a bright, airy look that is subtly elegant and welcoming, choose a soft blue siding color with a hint of green or gray in it so it has a natural feel. Don't go too pale or too bright. Pair it with black shutters, trim and door to lend a grounded feel to the color combination.
Lasting Siding and Color that Makes You Love Your Colonial Home All Over Again
Your home deserves the very best. So when you're ready to install new siding, it's important to make your selection with confidence.
At Siding & Windows Group, we'll educate you fully on your options, so you can feel assured you're choosing what works best for you. We're proud to offer Hardie siding, because it's so long-lasting and delivers the performance your home deserves.
Find out more about our James Hardie siding installation services, and contact us to receive a free quote today.