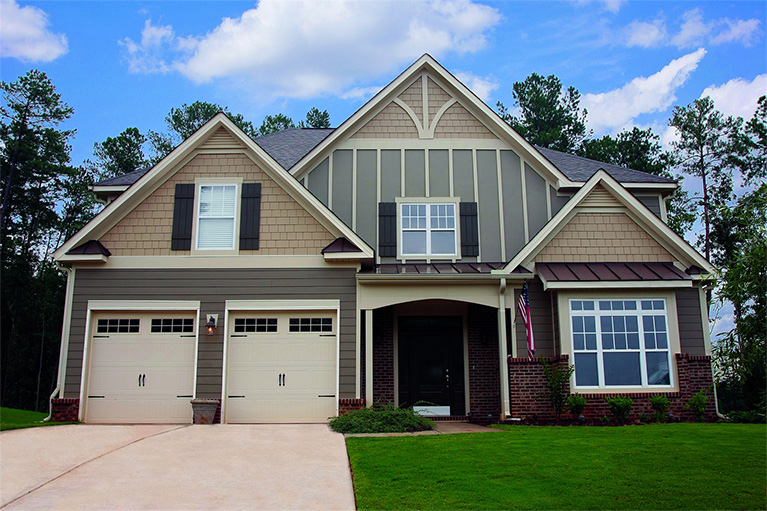 Now that sunnier weather is here, many Chicago homeowners may be planning outdoor home improvement projects, including installing new siding on their homes, or replacing existing siding. Are you one of them? Let's take a look at both of the possible options—horizontal and vertical—and what to consider regarding ease of installation, cost, durability, and maintenance when deciding which siding is right for you.
Horizontal siding
Horizontal siding provides a traditional look that will never go out of style. Most of the sided homes in your neighborhood likely have horizontal siding, and so you may want to adopt (or continue to use) the style on your house's exterior as well.
Ease of Installation and Cost
Horizontal siding is the most common type of siding on homes, and therefore familiar to more contractors. This makes it easier and faster for them to install. When contractors can install the siding efficiently, it results in lower costs for you.
Durability and Maintenance
While both horizontal and vertical siding can be durable, a drawback of horizontal siding is that it is more likely to sustain leaks. With that in mind, however, HardiePlank siding, other brands of fiber cement, vinyl, and metal are all hard-wearing materials that are more resistant to water damage and moisture-related mold than wood siding is.
Since leaks can happen just as easily during the cleaning process as during a rainstorm, horizontal siding requires a careful cleaning regimen so that you do not get water behind the siding. If you use a pressure washer, start by ensuring that the stream is at eye level and pointed straight at the siding, not at an angle. That way, you won't drive water behind the siding.
Vertical siding
If most of the sided homes in your neighborhood use horizontal siding, opting for vertical siding means that your home is sure to be both elegant and eye-catching.
Ease of Installation and Cost
When considering the cost of installation, vertical siding is more expensive and time-consuming to install than horizontal siding because furring strips are placed underneath first to ensure that the siding is aligned properly and smoothly. If you opt for board and batten siding (a style of vertical siding often seen in commercial and industrial buildings with thin vertical filler strips placed over the seams in your siding) this process will be even more complex.
Durability and Maintenance
We noted that both horizontal and vertical siding can be durable. Another bonus of vertical siding is that, unlike horizontal siding, it is not susceptible to water damage because rainwater runs off it. This also makes cleaning easier. The watertight properties of vertical siding are increased even more if you opt for board and batten style panels because the filler strips cover any seams in your vertical siding.
If you can't decide whether you prefer horizontal or vertical siding, you can also use both for a beautiful custom look. Perhaps you want to use horizontal siding on the majority of your house, but want draw everyone's attention to the second-story windows, so you'll opt for vertical siding underneath them. You might also want to complement siding with cedar shakes, shingles, or stone.
Let Siding & Windows Group Help.
Ready to start your siding project? Still have questions? Contact the Siding & Windows Group for a free siding design consultation by contacting us via our website or by phone 847-251-4200. We look forward to helping you. Also check out our blog for more information and tips!