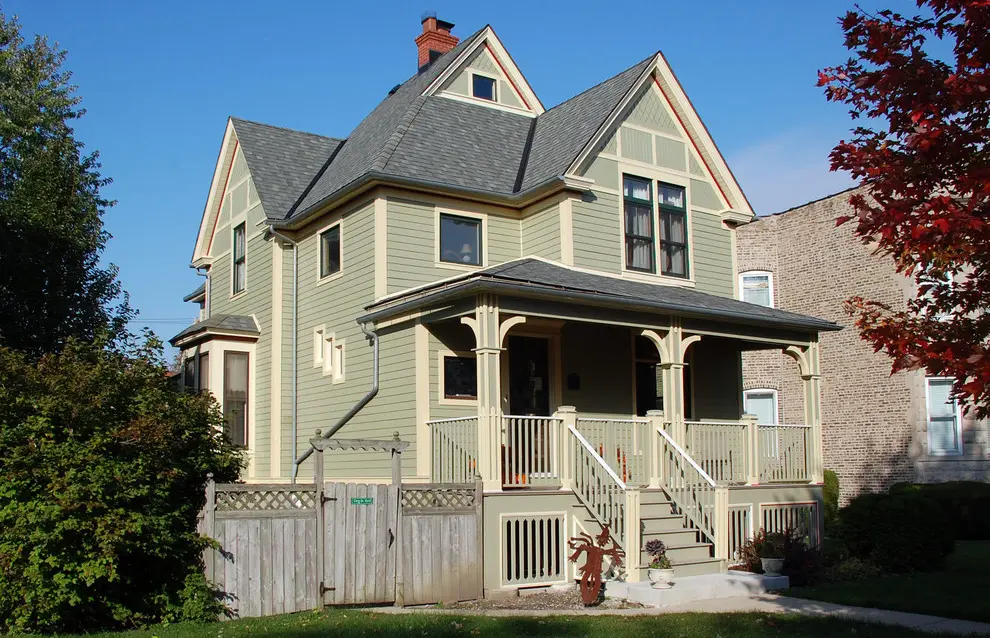 Chicago's lovely historical homes are a superb regional treasure, and many homeowners naturally are drawn to investing in these gorgeous properties. They come with elegant looks, unique architectural style, and timeless appeal that is hard to beat.
Yet these intricate homes require demanding exterior maintenance—especially when exposed to Chicago's harsh weather. And their historic status means any upgrades you make must meet stringent standards.
How do you make that upkeep a breeze—retaining your house's charm and keeping it safe from the elements while satisfying local requirements?
Simple! Invest in versatile, attractive, historic-appropriate James Hardie siding for your house renovations. 
Mimics Classic, Natural Wood 
One of the most important concerns for homeowners of Victorians is matching modern materials to the property's historic look and feel. Because Victorians were originally built with wood, we're often asked if wood must be used to replace old siding.
The challenge is that wood is hard to maintain, requiring constant painting and inspections to spot water damage and wood rot.
Fortunately, Hardie siding solves all the issues here with ease.
Hardie Siding is formed in molds crafted from real wood. This creates siding that matches wood's textures and grains for an authentic appearance that vinyl and metal can't match.
Hardie's fiber cement makeup is incredibly durable compared to wood. It's unappealing to termites and woodpeckers, doesn't contribute fuel to a fire, and holds paint longer than wood.
Hardie Board is attractive and appealing. Unlike lesser materials, it looks great from the curb, ensuring your Victorian house is eye-catching for years to come.
Comes in Vibrant Colors
Another essential Victorian characteristic is its bright, lively exterior color scheme. No dull whites, creams or greys for these lovely houses. To keep an authentic look, you'll need a siding that offers bright shades.
While wood needs annoyingly frequent repainting, other materials like vinyl can't be painted at all—so when they fade, you're stuck.
James Hardie siding solves this issue too! 
It comes either pre-primed to be painted any color you like, or is available in a lasting baked-on color added in controlled factory settings.
This unique ColorPlus Technology creates shades that stay vibrant for up to 15 years, and are warrantied against chipping, peeling, and flaking.
Choose from authentic Victorian-era colors like Mountain Sage, Boothbay Blue, and Heathered Moss that are specifically intended to fit the historic style of your house.
Or, opt for one of Hardie's numerous modern color schemes to give a contemporary flair to your home and make it pop.
Works Well with Intricate Gothic Designs 
Because Victorian architecture features a lot of detailed design elements, it can be a challenge for certain sidings to match.
These homes get their unique charm from their wild willingness to embrace all sorts of visual elements—mixing horizontal and vertical planks of different widths, fancily-shaped shakes, specially-shaped trim, and other elaborate stylings. Not all materials can match those looks attractively, and with ease of installation.
What's great about Hardie siding is that it is super-adaptable to different styles. You'll be amazed at how it benefits your Victorian:
Designed for beautiful mixing and matching, Hardie products seamlessly blend when combined in all sorts of different style patterns.
Hardie boards, trim, and accents come in all the designs and widths you need to update your home. Among your choices are:

Shakes and boards that look like cedar
Octagon and hexagon shakes to match Victorian details
Smooth or textured panels
Trim and boards that match in color, or are coordinated with creative color schemes
And more!

With its lasting color and easy upkeep, you won't have to scrape all the paint off intricately detailed wood trim and accents in order to refresh the exterior color.
Fits Stringent Historic Guidelines 
Victorian homes in the Chicago era are typically subject to various guidelines to preserve their look and feel. Even if your property isn't specifically designated as a historic home, it's still a good idea to keep upgrades consistent with the Victorian style so it retains its value when it comes time to sell.
Hardie siding and trim are a popular, effective combination for homeowners who must fulfill historic requirements:
Hardie's impressive versatility helps preserve the original structure's authentic look and feel.
All the details of your exterior—front porch, eaves, decorative window trims, and more—can be matched with Hardie products.
You can create strong customizability with all the available product options. Choose one or a mix of horizontal lap siding, vertical panels, board-and-batten, HardieShingle, HardieTrim, and HardieSoffits to achieve the specific look you desire.
Creates Lasting Performance and Value 
Hardie siding products—from HardiePlank lap siding, HardieShingle, to trim and more—are designed to be incredibly durable and beautiful. You'll love how Hardie siding outperforms wood and vinyl:
For all these reasons and more, upgrading your Victorian home with Hardie siding is a smart choice that you'll love for years to come. Learn more about its many advantages.
Ensure a Lasting, Gorgeous Home with James Hardie's Many Siding Options   
Whether your home mimics Victorian style or is historic, you deserve an exterior that stands up to the tests of time and weather and keeps its beautiful looks too. Our Siding & Windows Group team is well trained in siding installations that preserve your home, satisfy any historic or neighborhood guidelines, and give you lasting value.
As Chicago's James Hardie Elite Preferred contractor of choice, we've provided hundreds of homeowners with HardieP board installations that create delight and confidence. You'll love the value-adding, charming results of Hardie siding on your Victorian house.
From first consultation to your walk-through and beyond, we give you:
Detailed estimates that ensure you know exactly what to expect
Precise craftsmanship so your siding is installed right, preserving the impressive James Hardie warranty
Timely communication to address your questions, keep you informed, and give you confidence
Be proud of your beautiful Victorian home's curb appeal, value and performance with decades-strong Hardie siding. Reach out for a free consultation today to get started.