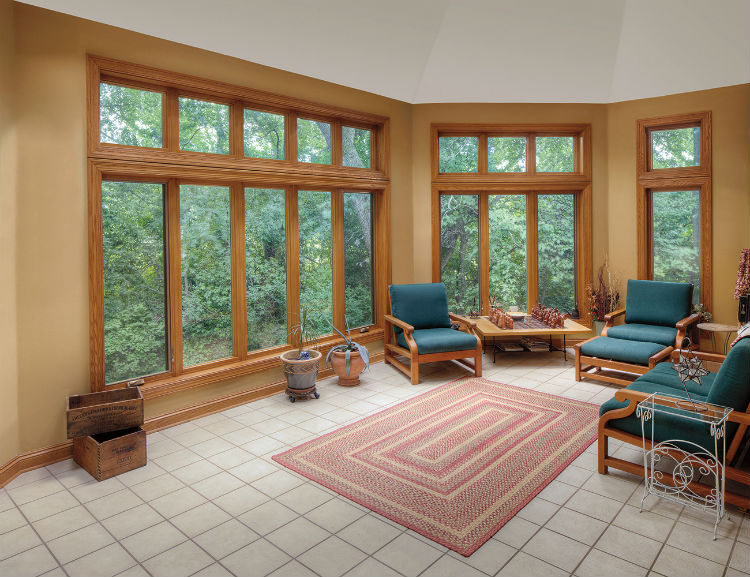 Perhaps it's time to replace your home's windows. Maybe they are letting in air and driving up your energy costs. The two most popular window styles are double-hung and casement. But which would suit your home best? To help you decide, the pros here at Siding & Windows Group have compiled some of the principal considerations you should take into account.
Modern or Traditional?
The first thing you need to do ask yourself is what style of home you have. If it's a modern home with clean lines, neutral colors, and simplicity of presentation, then casement windows might be your best bet.
Casement windows generally have one large pane of glass, are hinged on the inside, and open using some kind of crank mechanism. With the simplicity of the single pane, they match well with the modern or contemporary look. But keep in mind that casement windows need to swing out to open, which may affect the placement of furniture or landscaping immediately outside.
If you have a more traditional Country or Colonial Style home, then double hung windows might be right for you. They have two sashes (frames for holding glass) that slide up and down on a track system built into the side of the window.
Because of this construction, the frame for the stashes will appear in the center of the view where they stack. This framing feature of a double-hung window has a classic, homey look that goes well with more traditional styles of homes. These windows go straight up and down; so don't require any space outside to open. Their opening mechanisms are also less prone to damage or breaking because they have fewer moving mechanical parts than casement windows.
Air Tightness and Energy Efficiency
Casement windows do a better job of limiting air intrusion, because the window sash pushes directly into all four sides of the window frame, like an outside door pressing into a door frame.
With a double-hung window, its tracking system provides multiple points where air can leak, making it less energy efficient.
The View Outside
If you love unobstructed views of the world outside, then casement windows, with their single glass panes, are what you want, acting as a picture frame. With double-hung windows, the rail check (the horizontal bar caused by the stacking windows) often runs across your line of view when sitting. While not a huge impediment, it may be the deciding factor if you value a room with a view.
Other Considerations
With its spring-loaded balance, a double-hung window is usually easy to open or close. But if you have to stretch to reach the window, or if the window is older and has been painted into its track, then you might have problems.
Turning a crank and working a lock, you'll find the casement window is easier to open and shut. However, if you have to open a lot of casement windows, the cranking can take a lot of time.
Normal window air conditioners won't fit in casement windows; specialty units are required. Double-hung are the favorite home of AC window units.
When it comes to cleaning, double-hung windows, even if they have swing-in sashes, are harder to clean than casement windows.
As far as cost, double-hung windows are more readily available than casement and are roughly 10% cheaper to buy.
If you need replacement windows for your home, contact us for a free quote and more information. Serving Chicagoland and the North Shire, the Siding Group is the top-rated siding and replacement windows company in the region, with the products and experience to serve you best.