From Outdated Craftsman to Modern Farmhouse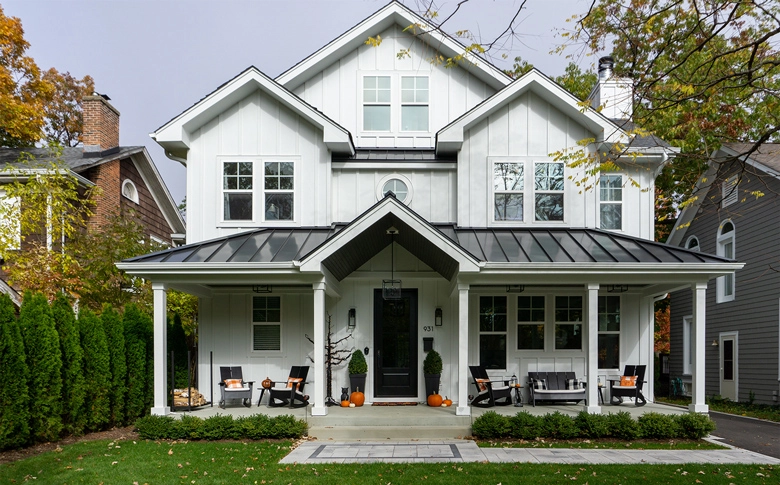 Location: Highland Park, IL
Renovations: Siding replacement, roof replacement, metal roof installation
An Outdated But Beloved Home in

Highland Park, IL

These homeowners were in love with everything about their Highland Park, IL home—except its outdated appearance indoors and out. Their craftsman-style home was starting to feel busy, reflecting the previous homeowner's style with unnecessary flourishes. It didn't have the simple, streamlined feel they really wanted.

It was time for a total home exterior renovation.
Home Exterior Renovations With Modern Flair
Our new clients came to us with their modern farmhouse dreams. They wanted a local contractor with a high reputation, and they chose us because we also offered professionalism and attention to detail—we listened to their requests.
Our team took the time to understand our clients' concerns, walking the grounds of their home and uncovering exactly what they had in mind for their renovation. We noted features that they loved and those they wanted to update, revising our renderings along the way until we landed on the ideal design.
Two major considerations: Our homeowners weren't just renovating their home's exterior, but they also were planning to redo their entire interior. We needed to stick to a budget and work in phases to allow for the rest of their renovations.
The other consideration was the arched craftsman-style portico. It just wasn't the right style for our clients. Based on research images and homes they loved, we decided to redo the angle of the portico to coordinate with the other gable roofs.
The Outcome
For this beautiful Highland Park, IL renovation, we started by removing the old siding, trim, brackets and posts. Next, we installed new James Hardie Board-and-Batten Siding, HardieTrim, and even new gutters.
For the finishing, farmhouse-inspired touch, we added a metal roof. We began with the removal of the front entry's rounded peak and reframed and raised the slope slightly to install a new standing-seam metal roof that matched the home's other gables.
In the end, our homeowners loved the simplicity, peace, and modernity of their home. They also loved our exceptional craftsmanship, flawless execution, and careful attention. The result was a beautiful new home exterior and some very happy clients.
Is your home in need of an update? Contact us today!