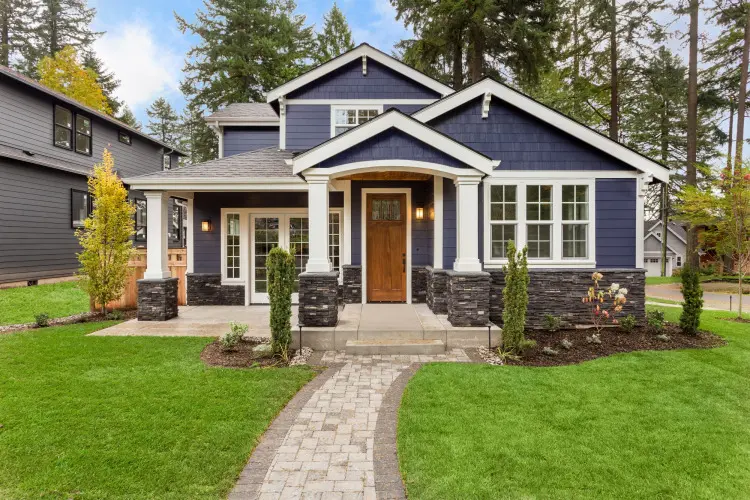 Bungalow-style houses are common in the Chicago area, but they have a distinctive look and feel that you'll want to match when you invest in new doors and replacement windows. The wrong upgrades, and your cozy home might lose its distinctive charm and historic feel. So, it's important to choose your materials, colors, and styles carefully when investing in updated fixtures.
These design tips will make your choices in new windows and doors a lot easier.
What Is a Bungalow Home? 
To know how to select the best styles of windows and doors for your home, it helps to understand what makes a bungalow unique. These charming, one-floor houses are designed to be relaxed and comfortable, with a mix of materials to give these homes their unique look.
One of the most common styles of bungalow is the Craftsman Bungalow—an architectural design made popular in the early 1900s by the Arts and Crafts movement, which focused on unique, handmade, artistic home features rather than an industrial, mass production style.
To maintain that eclectic, individualistic, historic appeal, it's important to choose new windows and doors that blend a Craftsman-like style with the energy efficiency and state-of-the-art features you desire.
How to Pick Window Designs that Fit a Bungalow
Craftsman Bungalows can welcome a variety of window styles with ease. The key to choosing the right ones depends on looking for options that fit well with the warm comfort of a Craftsman home, such as:
Natural wood or an authentic wood-like appearance
Earth tones and warm, organic colors
Vertical lines—such as grilles in windows
Symmetrical patterns
Art glass and stained glass
Also, windows that are more vertical than horizontal benefit these cozy homes in style and functionality. So, consider the following options as you narrow down your replacement windows.
Casement 
Casement windows are hinged and open outward, and they're a popular selection for Craftsman homes. They're easy to arrange in groups to create a symmetrical look that also brings in plenty of natural light. And they look attractive from the street.
Double-Hung 
These classic windows have two panes that open upward or downward, making them simple to use and maintain. Because they're so popular among homeowners nationwide, they come in a wide range of colors, styles, and hardware, and they look appealing in any type of house.
Picture and Awning
For situations where a stationary window may be of value, consider installing a picture window with an awning window atop it. This design is a little unusual compared to casement and double-hung windows, but it can work effectively in a Craftsman home where the simplicity of a picture window is appreciated. An awning window at the top allows for some airflow without creating an overly 'horizontal' look that would otherwise detract from the architecture.
Narrow down your choices even further with our handy guide to replacement windows.
How to Select Doors for a Craftsman Home
Craftsman homes typically have a single front door entryway, serving as the focal point for the large, covered front porch with a low-pitched roof that these houses usually have. These entry areas are also characterized by stairs leading up to the porch, with thick columns and dramatic brick and stonework.
You'll want to pick a door style that is attractive and draws the eye without being overly dramatic. Instead, the door needs to balance the strong features of the porch, with:
Solid, genuine wood or wood-like look
Earthy wood stains rather than bright colors
Symmetrical patterns inlaid in solid panels
Art glass and stained-glass panels
Solid Wood Appearance
To offset the brick and stone features of the home's exterior, a solid door of genuine wood or a material that can be made to mimic wood effectively (such as fiberglass) is an attractive choice. A wood-like, thick entry door offers a warm, comforting invite into a Craftsman home and looks good from the curb.
Earthy Finish/Color 
Unlike other architectures like a modern home that might benefit from bright pops of color, a Craftsman Bungalow looks best with a natural, organic color choice. For doors, that means opting for stained wood, or if you're choosing fiberglass, a factory-added tint that feels like wood, such as a warm auburn shade.
Symmetrical Patterns 
To give some added character to your door without going too modern, look for styles that feature inlaid, classic patterns that are symmetrically applied.
Art Glass Features 
A Craftsman Bungalow's unique, artistic feel gives homeowners a perfect opportunity to choose doors with decorative glass features. Whether the glass is included as panels within the door, next to the door, or above it, you can create a personalized design that blends well with the Arts and Crafts style. Etched glass, tinted glass, and stained glass are all options that can work nicely.
Storm Door 
Not all homes use a storm door, so this is an optional selection. But many Craftsman Bungalow homeowners enjoy the way a storm door allows them to bring in more natural light and ventilation during warmer months.
Versatile Window and Door Installations for Your Chicago Bungalow   
Ready to upgrade your home with lovely replacement windows and brand-new doors that make your property pop with style? At Siding & Windows Group, we specialize in home upgrades that give you lasting curb appeal and enduring value. We have numerous styles and materials from a variety of manufacturers, giving you the freedom to choose the best fit for your home.
Start dreaming of the look you want. Check out our gallery of projects we've completed in and around Chicago for inspiration. We look forward to serving you!