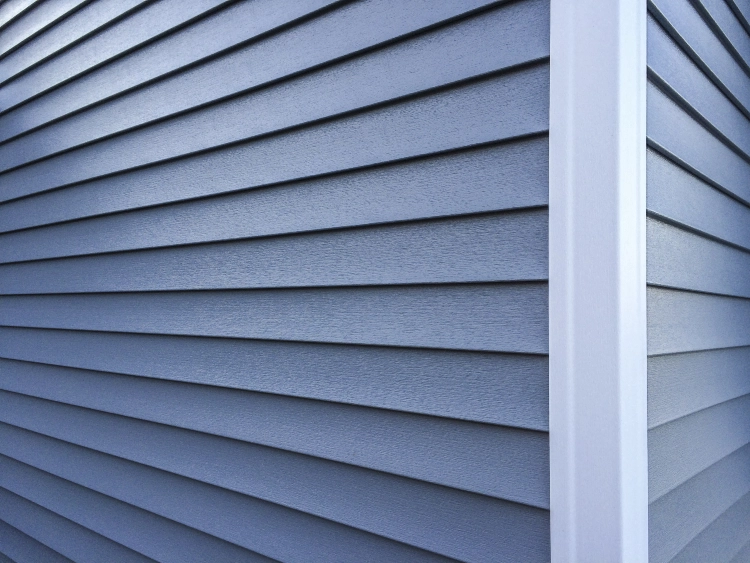 Get Insulated Siding You'll Love on your Home
Is your home exterior looking drab and lackluster? Is the current siding on your home worn down, faded, loose or rotting away? New siding is an excellent way to add lasting value, beauty and protection to your house, especially when you turn to Mastic's insulated vinyl siding for your home remodeling project.
As you consider the home upgrades you'd like, realize that Mastic vinyl siding offers you an affordable, low-maintenance exterior that gives you confidence your property is as energy-efficient as possible—and more.
What Is Mastic Insulated Vinyl Siding?
A leading brand in the vinyl siding industry, Mastic is a popular choice for homeowners who desire to blend the convenient low maintenance of vinyl siding with strong resistance to the elements. Mastic's innovative Structure® Home Insulation System™ Siding combines the latest siding technologies with a high-performance insulating foam that keeps your house comfortably warm in winter and refreshingly cool in summer.
Insulated Siding: Does It Make a Difference?
When homeowners consider options for insulating their home against the elements, they initially think about traditional insulation, which is usually installed in sheets in the home's walls and attic spaces. And while this technique is effective, it doesn't fully prevent drafts that cause you to lose some energy efficiency and indoor comfort when the weather is hot or frigid.
One way to add extra protection against the outdoors is to use Mastic insulated vinyl siding. This additional layer of insulation makes homes more energy-efficient, helping to keep your indoor spaces more comfortable year-round. And the elimination of heat transfer between your interior and exterior lowers your energy use. It's a win-win.
How Choosing Mastic Vinyl Siding Benefits Your Home
Among vinyl siding options, Mastic is highly appreciated by homeowners in and around Chicago.
1. Energy Efficiency
The siding you select can make a tremendous impact on keeping your house efficient and insulated. That's where Mastic's Structure Home Insulation System shines. Mastic insulated vinyl siding covers key areas where heat can escape, including studs, which are otherwise not normally insulated.
In addition, Mastic vinyl siding is designed to offer added protection to areas that can be vulnerable to drafts, heat transfer and energy loss—such as around windows and doors. Mastic insulated vinyl siding's unique foam backing yields an R-value of R-3.0, which meets the requirements for Energy Star® homes. You can be confident that you're getting great energy efficiency with insulated siding—and you'll see it reflected in more manageable utility bills.
2. Strong Durability
With its patented foam backing, Mastic insulated vinyl siding stands up exceptionally well against the snow, ice, wind, rain and frigid temperatures of Chicago winters. Mastic siding is also thick and sturdy, making it up to 300% more impact resistant to hail and debris than standard vinyl.
3. Stylish Appearance
Mastic insulated vinyl siding comes in attractive, wide panels that look and feel like traditional wood siding. With wood grain texture, this siding can mimic the appearance of luxurious cedar, making your home stand out from the curb.
Other options such as extra-long planks give homeowners added versatility to create the exact look they want. A wide range of colors—such as Autumn Harvest, Russet Red, Classic Cream and numerous others—are available to create a customized look as well. As a result of this flexibility in design, Mastic vinyl siding works well on any home architectural style.
4. Simple Maintenance
Homeowners love the low maintenance afforded by Mastic vinyl siding. Vinyl is a lasting home remodeling material, resisting the moisture damage and rot that wood siding suffers. And unlike both wood and fiber cement, vinyl siding doesn't need to be repainted, so you don't have to budget time and money into painting it.
5. Resistance to Pests
One of the most frustrating issues faced by those who own older, historic homes is the frequency with which wood siding is damaged by pests. Mastic vinyl insulated siding eliminates that problem with ease. Vinyl isn't appealing to pests, so it doesn't attract termites, carpenter ants and bees, woodpeckers, and even mice and other rodents that can be attracted to the moisture that infuses wood siding.
Discover more benefits to choosing Mastic siding for your Chicago home.
Be Confident in Your Home Exterior with Insulated Siding
As you plan for home upgrades that add long-lasting value, be sure to consider the great results that Mastic insulated vinyl siding offers. Homeowners in the Chicago area love Mastic's reliability.
We're a Mastic Siding Certified Contractor in Chicago—and you can count on us to do your vinyl siding installation properly, giving you top-notch results and protecting your Mastic warranty.
Contact us to learn more, or check out our Siding Gallery and start dreaming of how your home will stand out with new vinyl siding.